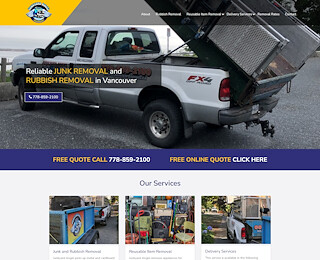 Rubbish removal in Vancouver is simple to set up. Just call Junkyard Angel at 778-859-2100 and they'll take it from there. All of your unwanted rubbish will be hauled away, leaving your property looking neat and clean again.
If you have broken appliances out in your yard, old furniture you're no longer using, trash that is not biodegradable or any other type of rubbish out on your property, call Junkyard Angel and set up an appointment for your rubbish removal. Throughout all of Vancouver, Junkyard Angel is never far away.
Removing the rubbish and other junk from your property is crucial for many reasons. After a while, rubbish can begin to become a safety hazard around your place, especially if you have small children. Rubbish can also be an insurance liability.
Rubbish removal in Vancouver is affordable when you call Junkyard Angel. Single item rates are as follows:
- Mattress from $70 individually 
(add $20 for pocket coil), $30 each with load
- Boxspring from $70
- TV from $65
- Stove from $75
- Dryer from $75
- Washer from $75
- Fridge (Refrigerator) from $100
- Couch from $100
- Loveseat from $85
- Chair from $65
- Hide-a-bed from $125
- Tires from $7
- Prop cylinder from $10
- Car battery from $10
For any items not listed above, call Junkyard Angel at 778-859-2100. Removal Rates by Volume:
- Full load (approx. 5 cubic yards) $300
- 3/4 load $250
- 1/2 load $200
- 1/4 load $125
A surcharge may apply to volume loads for heavy material such as concrete, soil, and tile. For jobs involving extraordinary loading distance (e.g. more than 20 steps), a surcharge of $75 per hour for two men may apply. Rubbish removal from your Vancouver home or business is easy to manage. Just call on Junkyard Angel.
Why hire a professional rubbish removal company in Vancouver? Sometimes, residential or commercial rubbish can accumulate to the point where it's no longer cost-effective to remove by yourself, or the job becomes too overwhelming. Junkyard Angel provides custom services to ensure a fully-tailored rubbish removal solution throughout Vancouver that suits their customers' needs and their budgets.
Junkyard Angel has the proper equipment and tools at their disposal to provide for the efficient removal of your rubbish- no matter the size of the project. Booking a professional makes sense if you have potentially hazardous or dangerous objects to be disposed of, such as old electronic devices, used containers and glassware, box spring mattresses or large appliances. A rubbish removal specialist from Junkyard Angel in Vancouver will arrange all of the logistics necessary to have your items hauled away, segregated and disposed of properly.
Enjoy the convenience of hiring a professional rubbish removal company in Vancouver. Junkyard Angel will make quick work of hauling away everything you no longer want on your property, making room for new projects and increasing the value of your home.
Call Junkyard Angel today at 778-859-2100 and let the experts take care of your rubbish or junk issues. You'll be glad you made the call.
Rubbish Removal Vancouver